Show Spoilers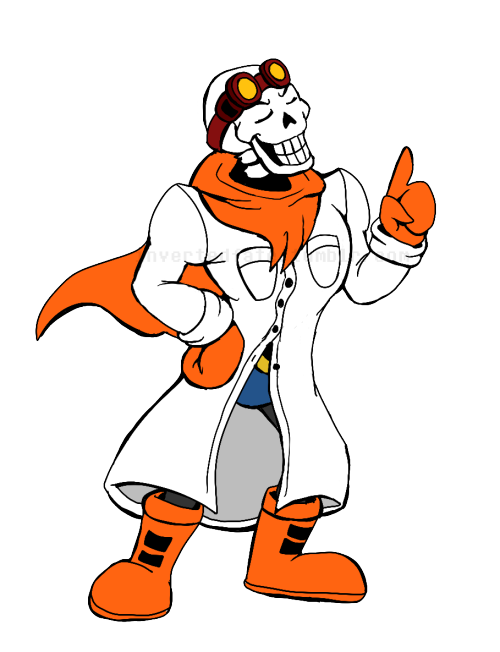 PAPYRUS
Eighteen years old.
The secondary protagonist and Frisk's party member.
A self-proclaimed "SCIENTIFIC GENIUS AND PUZZLE MASTER!" He's created many inventions with varying degrees of success, from working teleporters to hover boards and a supposed de-lazifying laser. He uses many of his skills for the sake of quality of life improvements as well as crafting innovative puzzles, but many monsters find his "improvements" in Snowdin Forest more cumbersome than convenient.
He's Undyne's lab partner and has worked alongside her for three years. He took up the sciences to pick up where his brother left off ten years ago, but has since grown to genuinely love his work and its many applications in both cooking and puzzlery.
While still as goofy and eccentric as his original self, he's much more aware and knows more than he lets on. He's also quite skilled in defensive and support magic, as well as combining chemicals for a variety of effects. He uses this skill to aid Frisk in battle.
He promised Asgore to protect Frisk at all costs and believes in them wholeheartedly. His dedication is what prompts him to join Frisk as a party member.
Is fully on board with Flowey's plan to "free" everyone, even if it means keeping said plan a secret from those he cares about, like his brother.
Views Asgore as a father figure and regularly speaks with him over the phone as well as through the door. He doesn't know Asgore's true identity and refers to him as "Santa" and "Mr. Claus."
Can read EXP and LV.
Thanks to Asgore, he's gained an appreciation for botany and knows quite a bit about plants.
Does NOT have a magical glowing eye like Sans does.