Show Spoilers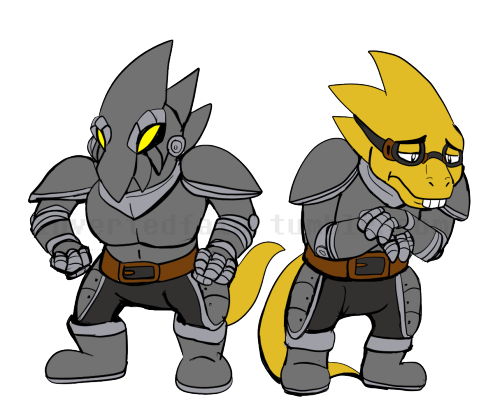 ALPHYS
Twenty-six years old.
Captain of the Royal Guard, though she plays more of a tactical role than canon Undyne. She focuses on strategies, scouting, and fights from a distance using a crossbow and lightning magic.
Deep down, she's as anxious and awkward as her canon self, but masks this under a cold, distant, and commanding persona, amplified by the voice modulator in her helmet.
Secretly adores humanity, from their media to their history. She finds them fascinating and joined the guard out of a desire to one day meet a human as well as become a hero like in her favorite animes. Sadly, she's since buried her adoration after the Dreemurr Tapes went public and monsters gained an even stronger hatred of humanity than before.
She's afraid of voicing her true opinions, as the guard captain must represent the many over the few, and if Toriel couldn't stand her ground, then what good could she do?
Claims the royal guard's anime and JRPG inspired uniforms are designed to use the tactical advantages of human armor against the very humans who created it… but really, she just wanted everyone to wear cute cosplays.
Typically lets Sans handle public speeches.
Does NOT have determination- that's still Undyne's niche.